August 1 - Planning on attending the Gathering of the Orange, southeast of Turtle Lake, Wisconsin? Look at their website for more information http://moonlakeshow.org/ Also, the club is asking you pre-register your tractors Click on this link http://moonlakeshow.org/participation/ and scroll down to "Show your orange tractor" and fill out the PDF form, as soon as possible....Send form to Joe Graunke! Click on this link...http://moonlakeshow.org/, scroll down, looking at the left side and download the show's poster and see more details.
Also, their club is looking for some help driving the people movers on FRIDAY and SUNDAY. The tractors you would be driving are BRAND NEW and open stations. Interested?? Please contact julwhite@frontiernet.net or phone Tom at (715) 781.5566 OR contact Tim Sollman (715) 641-1057 or an email cliprfix@amerytel.net. for details. Let's show them how the Upper Midwest A-C Club comes together and helps out!
July 28 - we have another survey for you......please click on the link.....thank you for your time! https://www.surveymonkey.com/r/8DVCFDC
July 28 - Stay tuned for pictures and videos!!!!
July 28 - To all of our dedicated followers: I am sorry I have been slow to give out results. The question maybe, "Why didn't he post the results immediately?" After we draw and announce the winners, people start to leave to head home. That left seven (7) of us on the grounds, to start to tear-down. We worked until 5:30....went supper, came back to the grounds for more tear-down until about 9:00. At that point....we were all exhausted. I had the desire to announce the winners....but "my get up 'n go had got up 'n went".
We got home late yesterday, unloaded...and sat down.....I wanted to let you all know who won...but it is a very tiring responsibility....please consider to help just one (1) hour to set-up next year and just one (1) hour for tear-down, starting Tuesday morning (July 19, 2016).
There is much conversation during set-up so it is fun for set-up and for the tear-down. My goal next year....Let's be all set-up by Thursday noon so we can relax in the afternoon. Your help would be much appreciated. All placement of items are all laid out in a map an explained what goes where...easy jobs with many helpers.
Winners of the Orange Spectacular:
3rd place, One-thousand (1000) dollars - James Mayer, Winthrop, MN
2nd place, One thousand five hundred (1500) dollars, Phil Hackbart, Kensett, IA
1st place, D15 series II or four thousand (4000) dollars, Phillip Henna, Cottage Grove, WI.
Phillip decided, Sunday night, he is going to take the money. Phillip's grandpa bought a brand new WD, which was handed down to Dad as Dad farmed with Allis-Chalmers (8050, 7040, 8550 9455 AGCO, and Gleaner combines. Phillip's dad past away about six (6) -seven (7) years ago and all of the tractors eventually were sold except for the WD. Phillip has the WD and it needs work. The first place dollars will be invested into restoring the WD and Phillip hopes to bring the WD to the 25th Orange Spectacular. "Thank you to each and every one of you who bought a raffle ticket. Your financial support continues the show to go on!"
Talking with our 2nd place winner, Mr. Hackbart, they checked out the website, prior to coming the show to find out the condition of the show grounds and field demo plans. It is input like this which improves our show and our club communications. I will try to get winning results sooner to you all AND I will make note to post weather conditions, at the show grounds, daily/early in the future. Dave Clausen commented, if we could dedicate a phone line to give show grounds updates...some may call it a "hot-line" giving a recorded message....something for us to consider.
July 26 - Last day of the 2015 Orange Spectacular....Another successful year! Weather has been beautiful, sunny and warm but not scorching hot. During the tractor pull, last night, we had lightning flashing in the west. The storm held off until long after the pull....the pull lasted until 10:30! There was an intermission for a few minutes as we had our Upper Midwest A-C Club Scholarship auction. "Thank you" to some of our sponsors, Scott Schanus, Carol and Brent Spies; and Ken and Jason Holz for their special donations which helped raise $1440 dollars worth of financial support to increase our scholarship fund balance. "Thank you" to our buyers last night! (pictures will be posted later)
It didn't rain yesterday, so we were able to plow the east field and combine and bale straw on the far west field. When the crowd started to arrive in the east field we noticed some of the east field had been plowed. Come to find out, the newly formed "Twilight Tillage Team" went out plowing the night before to clean up their plow shares. The "Twilight Tillage Team" was a few of the lawn and garden tractor owners who plowed the night before and finshied using the tractor's headlights. They had to have plowed at least 4-5 acres......it all has to do with fun at the Orange Spectacular!
People are so excited to be here...tailgating in the parking lot with friends and family too...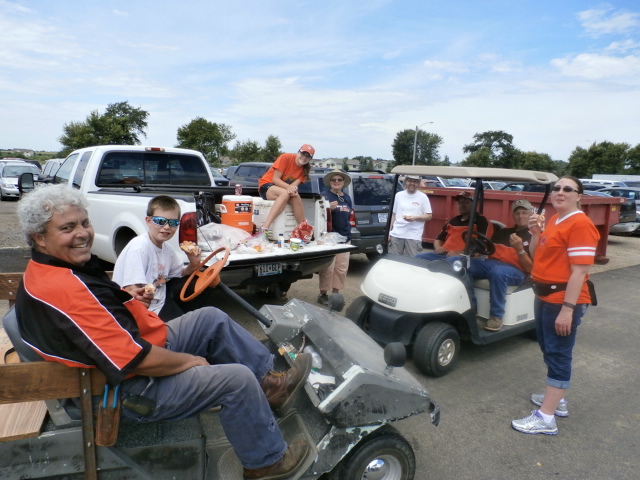 As you walk the grounds, you may come across Rick, Tammy, and Josh Van Tyl's camper.
You need to check this camper out...it is all done in an Allis-Chalmers theme! And then you see the goodies on the tables...yummy!! "Thanks" to the Van Tyl's for your treats!
The dyno was used. Bob Rodda of Duluth, MN with his D21......Read the top scale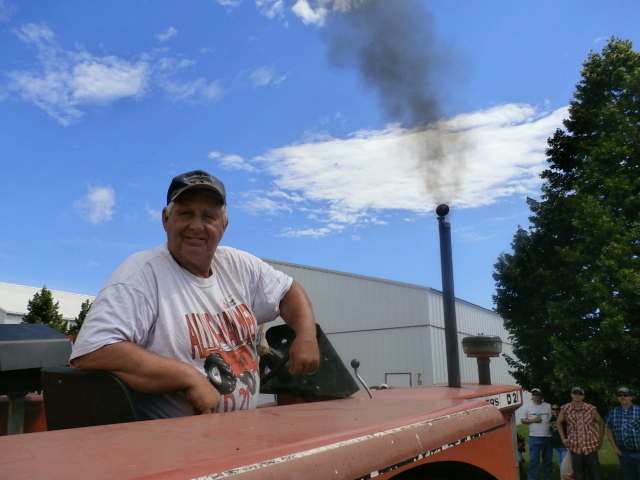 The crowd starts to gather....Results are posted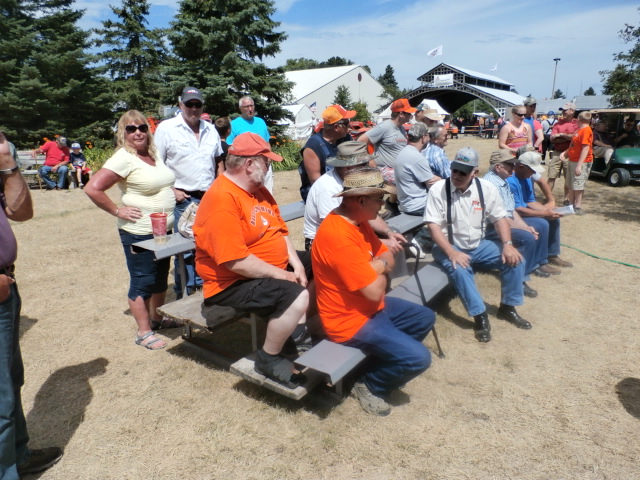 Many more tractors "rolled" in yesterday! The trailer parking was full.....BUT we found more room. The parking lots were full, but we found a few "secret" parking places....the Swap Meet was full, but we found some other spots (non-typical) for sales....it all worked out just fine!
Plan to come today AND by 3:30 p.m., someone will be winning a tractor or $4000 dollars for 1st place, $1500 for 2nd, and a $1000 for 3rd.....come and support the Orange Spectacular by buying a $2.00 ticket.
July 25 - What a first day!!!! Attendance - around 2100. Started out a bit wet as light rain showers moved through until around 7:30 a.m. It stayed cloudy and overcast for most of the morning....then the sun came out about 12 noon. There were reports Hutchinson received about one (1) inch of rain which really didn't slow down the combining of the wheat, baling the straw and hay. Plowing was not done yesterday, but today our guests will be able to plow more as they have yesterday's and today's field to plow. So the lawn and garden tractors will demonstrate different dirt attachments along with the farm tractors.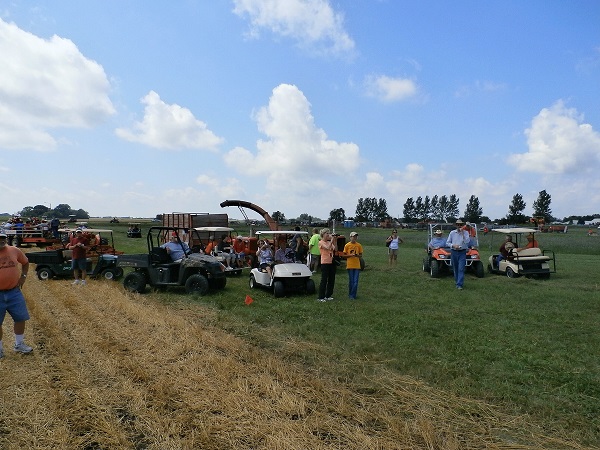 After lunch the weather turned warmer and bit sticky....but the parking lot was busy as cars came and went. Our Swap meet is "full"....last year we had (ninety) 90 spots. This year Doug had laid one-hundred ten (110) spots....as of last night only one (1) was available....BUT he will make overflow if needed! There is a lot of parts out there!
Our tractor display is already larger than last year....we will have to see how much we grow today!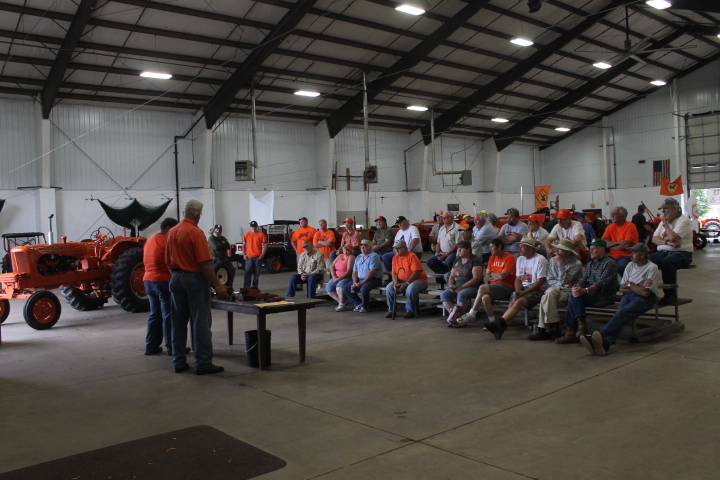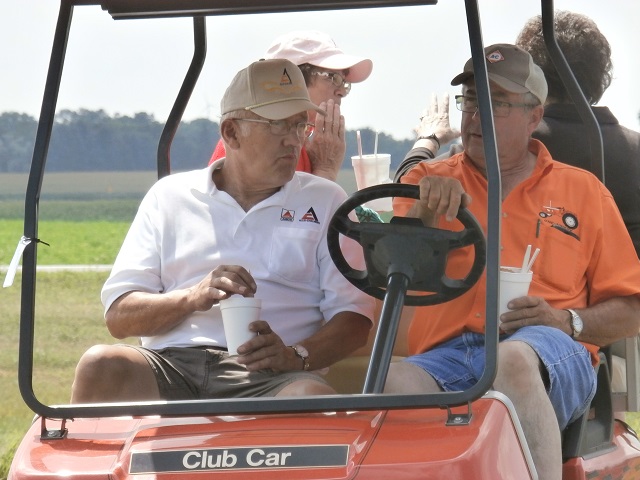 Snap coupler seminar Come and watch the field demos and have a vanilla shake!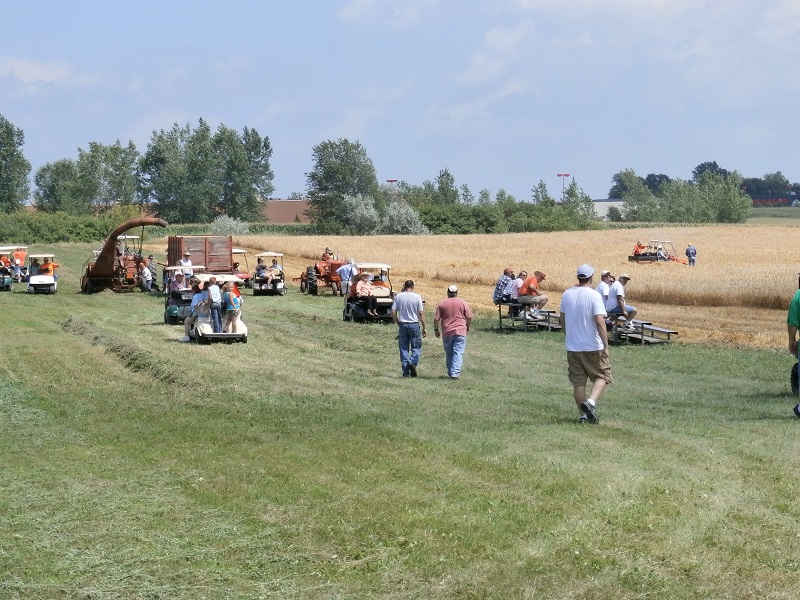 Don't just think about coming, get in your vehicle and come to Hutchinson and see the 24th Orange Spectacular.
Tractor ride last night had about twenty-eight (28) tractors with two (2) FULL people movers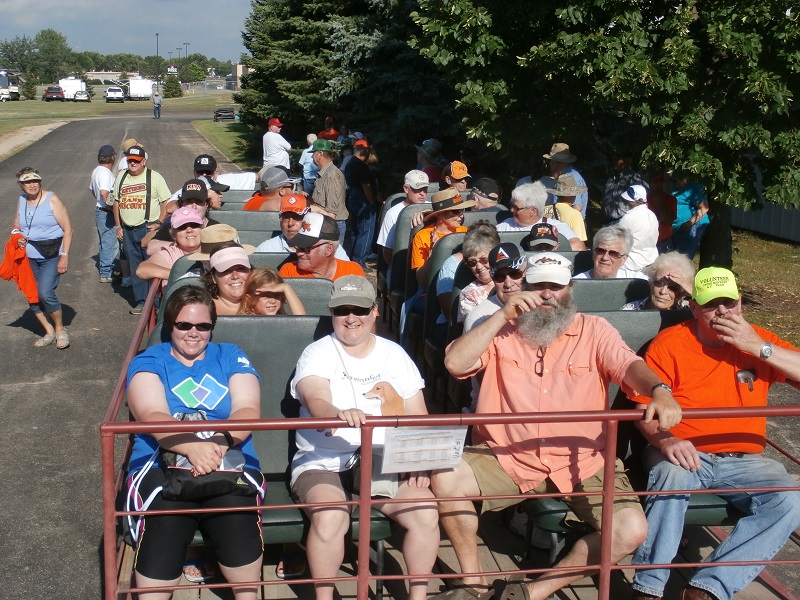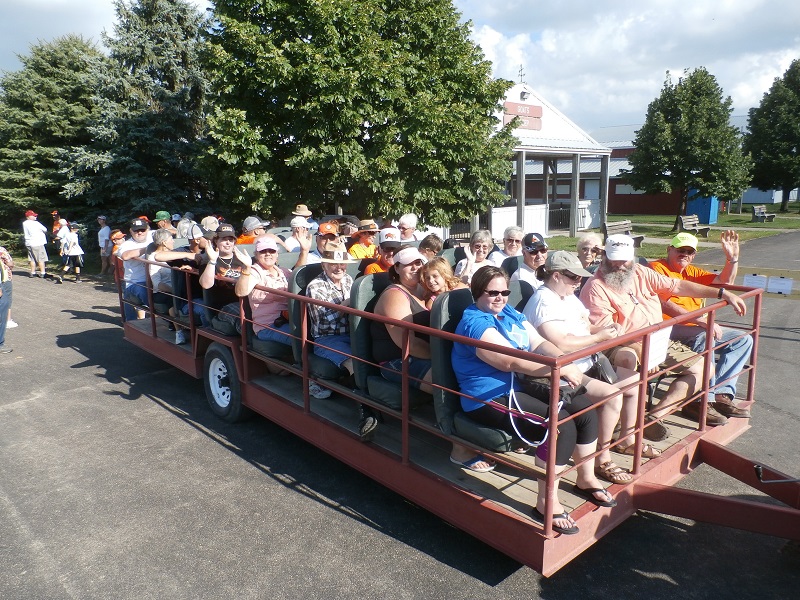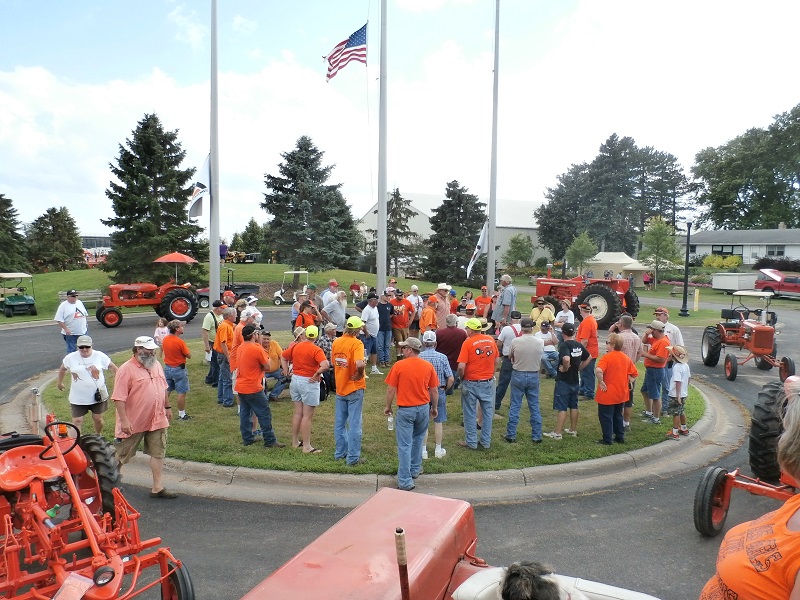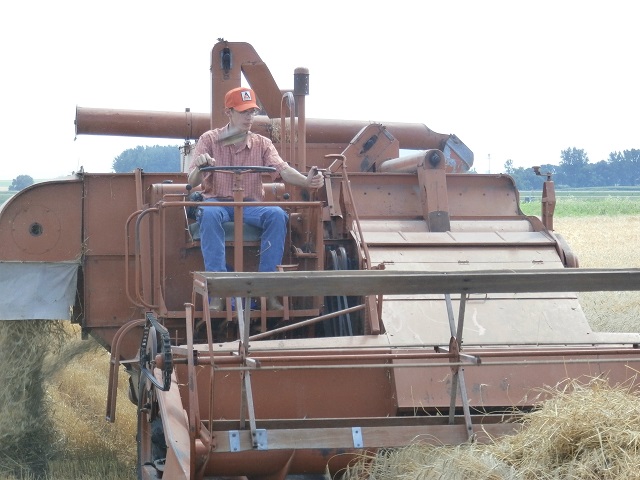 Tractor Ride drivers meeting at the show grounds gate A new field demo operator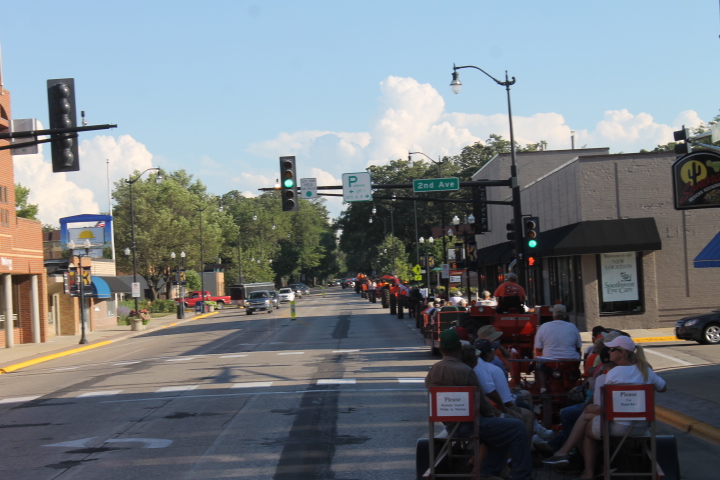 Main Street, downtown Hutchinson during Friday night's tractor ride
July 24 - Welcome to the 24th annual Orange Spectacular! It has been a lot of time and work to set-up.....and now it is time to welcome our guests. We have had some rain over night. This WILL change the schedule to field demos!! Other activities are on schedule. Our Children Activities will have some changes...Rita, our Children Activities Coordinator, has had a family emergency. He father has falling very ill and is intensive care....PLEASE accept our apologies for any changes this may create with your children. We especially want to keep Rita, her family and father in our prayers for a speedy recovery......
The rain has dampened the dust here, but later today, the forecast is predicting a high in the 80's or warmer....the show WILL go on.
Next year we celebrate our 25 years....make it a family a affair and come a couple of days early to help set-up and enjoy the family and meet new friends. With some assistance, we can have these show grounds whipped into shape by the Thursday before the show!
July 13 - ATTENTION QUILTERS....If you or anyone is interested in participating in the 2016 Orange Spectacular Quilt Show...check out our page and plan to compete in the 1st annual quilt show during the 2016 Orange Spectacular....Our 25th Orange Spectacular Show. Click the link and check out all of the details!!!! http://www.orangespectacular.com/quiltshowandrules.html
July 12 - I have created and posted a survey, if you could, please take a moment and fill it out. It helps us plan for the future and feedback to our purpose. Please click on the link .....https://www.surveymonkey.com/r/CW227TT Thank you for your time!

Febraury 15 - Look...Plan....Attend....
38th ANNUAL
PIERCE
OLD TIME
THRESHING BEE
Featuring Allis-Chalmers Tractors and Equipment
Saturday & Sunday - September 12 - 13, 2015
Pierce County Fairgrounds
Pierce, Nebraska
An Allis-Chalmers D14 will be a raffle tractor
For More Information Call:
Elwood & Marilyn Meier at 402-329-4245
Mike Kroupa at 402-329-6929

February 1st - Where are they?? As the Upper Midwest A-C Club prepares to celebrate the 25th Anniversary of the Orange Spectacular, we are looking at special events (we need your ideas too). So to help celebrate this milestone, the club would like to find the winners of OR the present owner of our past raffle tractors. It will be quite a feat, but have as many if not all, of the past raffle tractors on the showgrounds on the 4th weekend of July 2016. We need your help....do you know the following winners or do you know where the following winners/tractors are?
Show of 1994 - The "B" raffle tractor was won by Bill Becker of Foristell, Missouri
Show of 1995 - 1944 "C" Allis-Chalmers - Ted Nichols of Elk River, MN. Was called by phone
Show of 1996 - CA Allis, Anton Peltzer of Ramsey, MN
Show of 1997 - Raffle tractor "G" – Ray and Lois Tuma, Lonsdale, MN
Show of 1999 - D- 12 – Glenn Sider, Canada
Show of 2000 - 1959 D-10 - Nancy Dobratz - Watertown, MN
Show of 2003 - WD 45 Diesel Tractor, Philip Lewis – Louisville, IL
Show of 2005 - AC D-17, Duane Campbell, Currie, MN
Show of 2007 - AC 1952 IB, Has been sold to Chuck Smith, Oelwien, IA
Show of 2009 - AC 1962 D-10 Series II, Douglas Anderson, Finland,MN
Show of 2010 - Series II, D-15, Brandon Bursack - Canby, MN
If you know any of the above posted winners OR where the past raffle tractors are...PLEASE, contact me as soon possible, so we can plan to coordinate to have these tractors on the grounds for display in 2016. Contact me by phone at (715) 723-1908 or at rlarson@orangespectacular.com . As for winners not posted, I have their contact information available. I plan to personally invite them to attend our 2016 show and bring their prized possessions, including the raffle tractor of that year. We appreciate your cooperation and assistance!

January 20 - Ladies....we have a quilt contest coming up! We will be featuring AND displaying the competing quilts at the 2016 (our 25th Anniversary) Orange Spectacular show. Intersted in making a quilt and being part of this exciting event? Please see the details on the side menu and click on the like "2016 Quilt Show and Rules". It is just not quilts...there are OTHER CATEGORIES, too!!!! Check it out!!!!!!!!!!!!!!!


2016 has become closer to becoming reality....July 2016 is the Orange Specatacular's 25th Anniversary....Your board of directors wants to make this 25th show to be a real milestone!!!! Can you help with making the 25th a huge success? Let me know if you could help take on a couple of activities/ideas for coordination? We are looking for an Anniversary Committee to come to together, come up with ideas, designate respondsibilites to other assistants, etc... Communication with this committee can be done with email and phone calls....I would be MORE THAN HAPPY to assist the Anniversary Committee in any guidance....we are only a 1 year away....