The side navigation has been updated and a few new tabs have been added, board meeting information and annual meeting minutes have been added and updated. Check it out!
Merry Christmas! We wish you all the best and GOD bless!
---
High bid on 616, $750 11.17.17 see silent auction tab for details
STAY TUNED!! The Upper Midwest A-C Club will be making a 1/16th scale die cast 444 Allis Chalmers square baler with thrower attachment for the "Orange Spectacular", also the raffle tractor will be a D-15 series II working clothes original.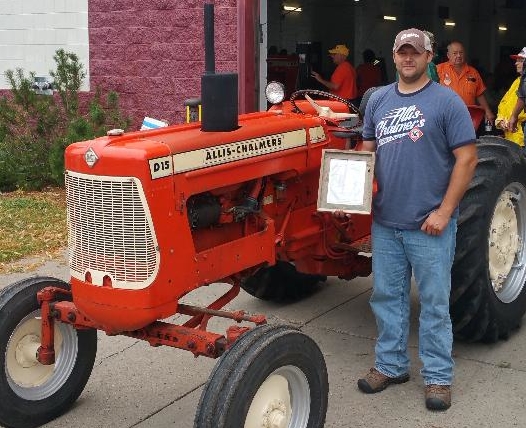 ---
Sunday, September 24th. Silent Auction of 616 Allis lawn tractor. We have decided to auction off the clubs 616 through silent auction. The club will start the bidding at 1$. bidding increments of 5$ as a minimum. Contact Darrell Grams to place bids and the web site will be updated weekly. Darrell's email is dgrams@frontiernet.net or by phone at 612.280.3397, the bidding will end at 3pm the Sunday of the Orange Spectacular.(pictures will be added also soon to come). Thank you for your bid!
---
The winners of the drawings at the Orange Spectacular for 2017 were as follows:
1st price 1959 D-10 Tractor Orvis Baumgardt of Hutchinson MN.
2nd prize $1,500 Cash Bruce Olson of Wisconsin
3rd prize $1,000 Cash Bernard Schroeder of Nebraska
pedal tractor Bruce Franzen of Iowa
Thanks again to everyone who attended and participated in the Orange Spectacular sponsored by the Upper Midwest AC Club
---
We now have a new Facebook page.
Click on the link here to add photos and made comments on the show