Here is the Lawn and Garden line-up from this year's Orange Spectacular...

February 1st - Can you help locate this tractor???


February 1st - Where are they?? As the Upper Midwest A-C Club prepares to celebrate the 25th Anniversary of the Orange Spectacular, we are looking at special events (we need your ideas too). So to help celebrate this milestone, the club would like to find the winners of OR the present owner of our past raffle tractors. It will be quite a feat, but have as many if not all, of the past raffle tractors on the showgrounds on the 4th weekend of July 2016. We need your help....do you know the following winners or do you know where the following winners/tractors are?
Show of 1994 - The "B" raffle tractor was won by Bill Becker of Foristell, Missouri
Show of 1995 - 1944 "C" Allis-Chalmers - Ted Nichols of Elk River, MN. Was called by phone
Show of 1996 - CA Allis, Anton Peltzer of Ramsey, MN
Show of 1997 - Raffle tractor "G" – Ray and Lois Tuma, Lonsdale, MN
Show of 1999 - D- 12 – Glenn Sider, Canada
Show of 2000 - 1959 D-10 - Nancy Dobratz - Watertown, MN
Show of 2003 - WD 45 Diesel Tractor, Philip Lewis – Louisville, IL
Show of 2005 - AC D-17, Duane Campbell, Currie, MN
Show of 2007 - AC 1952 IB, Has been sold to Chuck Smith, Oelwien, IA
Show of 2008 - AC 1962 D-12 Series II, Cal Simenson, Dodgeville, WI
Show of 2009 - AC 1962 D-10 Series II, Douglas Anderson, Finland,MN
Show of 2010 - Series II, D-15, Brandon Bursack - Canby, MN
Show of 2011 - Series II, D-10, Jared Groth - Garber, IA
If you know any of the above posted winners OR where the past raffle tractors are...PLEASE, contact me as soon possible, so we can plan to coordinate to have these tractors on the grounds for display in 2016. Contact me by phone at (715) 723-1908 or at rlarson@orangespectacular.com . As for winners not posted, I have their contact information available. I plan to personally invite them to attend our 2016 show and bring their prized possessions, including the raffle tractor of that year. We appreciate your cooperation and assitance!

January 31 - Just another day closer to the first day of summer. For our guests in the southern part of the U.S.A., your summer is year 'round...enjoy. It is getting to that time of the year when our show schedules start to be filled. We are looking for more volunteers...we are asking for just an hour or two for the WHOLE three-day weekend... If interested in or have any type of question, please call Rhonda (715) 723-1908. Your assistance is VERY MUCH appreciated!

No Friday night entertainment for the 2015 Orange Spectacular. Saturday night will be Prairie Rose Band


The Prairie Rose Band also plans to participate in our Sunday Church service being held at 8:30 a.m., July 26, 2015. Bring a lawn and plan to be inspired by Lester Schuft's message and Prairie Rose's musical selections during this special time to enhance our Christian lives.

January 31 - More pictures added the "2014 Outdoor Products" and "2014 Toy and Craft" link....found on the side of this page

Tractor ride this year, on Friday night; from the Showgrounds and around Hutchinson. Director Bob Paulson, Tractor Ride Coodinator, can give you more information if you have any questions. bpaulson@orangespectacular.com or give Bob a call at (320) 327-2800. Yes, we will have people movers going on the trip for our guests who prefer to ride and not drive. This is such an exciting event to see so MANY guests enjoying themselves! Plan to ride along or bring a tractor and plan to attend our tractor ride, July 24th, 2015. Pray for a warm and dry evening...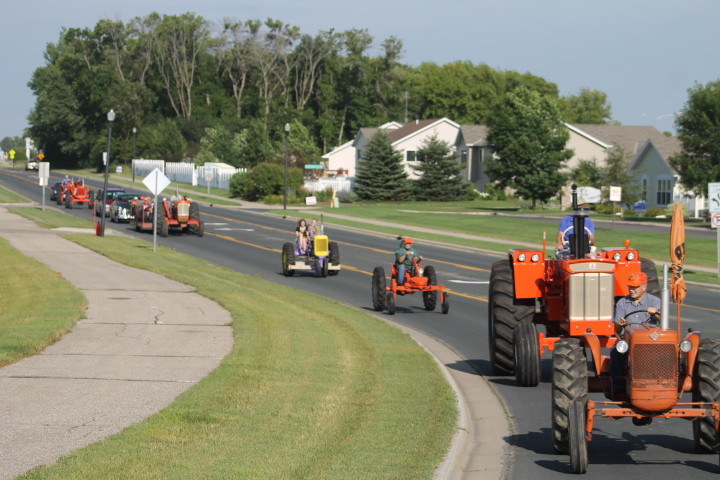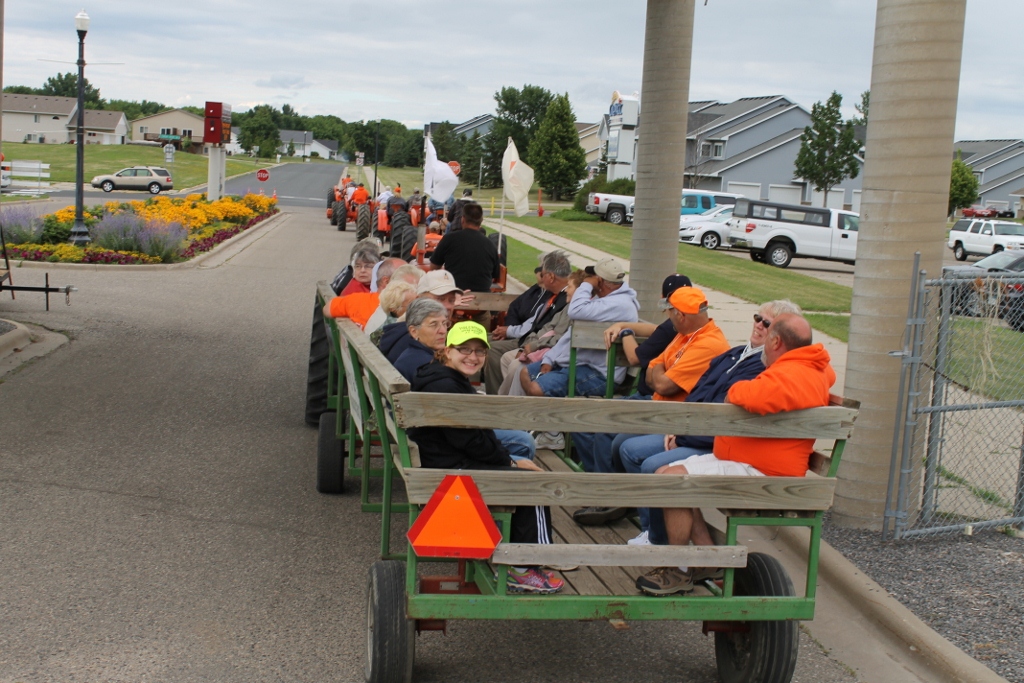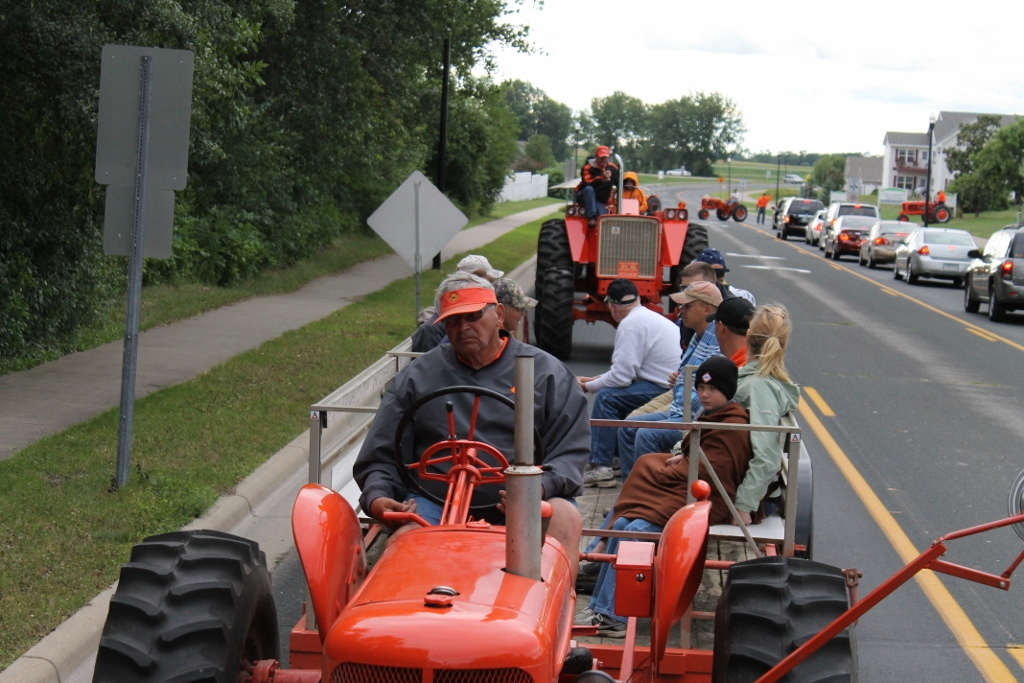 January 30 - Check out some of these Facebook pages https://www.facebook.com/photo.php?fbid=853655164675860&set=gm.10152691086360773&type=1&theater
https://www.facebook.com/photo.php?fbid=853655648009145&set=gm.10152691088405773&type=1&theater
https://www.facebook.com/groups/49706370772/?fref=nf
https://www.facebook.com/photo.php?fbid=853653208009389&set=gm.10152691077305773&type=1&theater
https://www.facebook.com/photo.php?fbid=853652601342783&set=gm.10152691074635773&type=1&theater

January 30 - Another page has been added to our website...."Orange Spectacular Show Toy History"...see on the right side of this page or...click on the following link to see what toy models we have made http://www.orangespectacular.com/showtoycollection.html

January 29th - A-C itself officially turned out the lights and locked the gates to the West Allis plant on January 29, 1989 - closing out a very long and storied chapter in American industrial history

January 26th - New added pictures to the website...scroll down on this page. Check out the new added videos on the "2014 Show Videos" Enjoy!

Janaury 25th - Our club has lost a good friend. Our thoughts and prayers goes to the Christa Maddux family from the Upper Midwest A-C Club. She was such a great lady. She always had a smile on her face.
◦"There's magic in a Mother's touch, and sunshine in her smile. There's love in everything she does to make our lives worthwhile. We can find both hope and courage just by looking in her eyes. Her laughter is a source of joy, her works are warm and wise. There is a kindness and compassion to be found in her embrace and we see the light of heaven shining from a Mother's face." Author Unknown
January 25th - Larry has sent me pictures of the TL-W Tractomotive, this year's show toy.



If you have not ordered one already, and would like to acquire this unique model for 2015, please complete one the application, found on the website at the left side titled "2015 Show Toy Order form" or click on the link. http://www.orangespectacular.com/2105orderform.html The Upper Midwest A-C Club appreciates your support of our club!
January 20 - Ladies....we have a quilt contest coming up! We will be featuring AND displaying the competing quilts at the 2016 (our 25th Anniversary) Orange Spectacular show. Intersted in making a quilt and being part of this exciting event? Please see the details on the side menu and click on the like "2016 Quilt Show and Rules". It is just not quilts...there are OTHER CATEGORIES, too!!!! Check it out!!!!!!!!!!!!!!!



Janaury 15 - Our club member, Luke Olson of Olson Tractor www.olsontractor.com has started a one-of-a-kind business. Luke has added "Pedal Tractor Restorations" to his present farm tractor restoration and repair business. Check out the Olson Tractor website and see what projects Luke has already completed.

January 9 - I received an email from one of our members, Mike Resner. The following is Mike's exact email: i am in Rochester Minnesota at the hospital ok. and do not no how long i be here ok. room 6-147 ok. can not take calls in my room ok. my email mike.resner@yahoo.com and facebook me here as will or my mail address is 1229a franklin circle mankato mn 56001. Please drop Mike a line to let him know you are thinking of him or on his Facebook page. https://www.facebook.com/mike.resner.3?fref=nf

January 1st...2015 - Happy New Year to all of our friends and families! As I look at the calendar.....2016 has become closer to becoming reality....July 2016 is the Orange Specatacular's 25th Anniversary....Your board of directors wants to make this 25th show to be a real milestone!!!! Can you help with making the 25th a huge success? Let me know if you could help take on a couple of activities/ideas for coordination? We are looking for an Anniversary Committee to come to together, come up with ideas, designate respondsibilites to other assistants, etc... Communication with this committee can be done with email and phone calls....I would be MORE THAN HAPPY to assist the Anniversary Committee in any guidance....we are only a 1 1/2 years away....

October 26 - I have still have a survey looking for you input. Please take a moment to help us plan the future. Click on the link and add your opinion. https://www.surveymonkey.com/s/KHDMYSQ