The side navigation has been updated and a few new tabs have been added, board meeting information and annual meeting minutes have been added and updated. Check it out!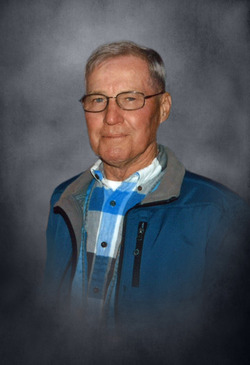 We have some very sad news for this group. Longtime club member Richard Schmitz, age 75 of Atlantic, Iowa passed away unexpectedly on Thursday, February 8, 2018.
Many may know Richard as "the baler guy". He was usually found on one of his balers doing field demos at Orange Spectaculars and other Allis Chalmers events. The 444
baler shown on the club's 2018 toy flyer belongs to Richard.
We extend our heartfelt sympathies to Richard's family and friends.
Click on his image for additional details regarding rosary, visitation, and christian burial.
---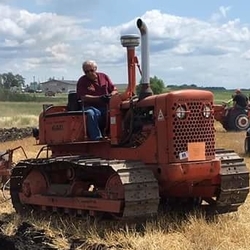 Field Demonstration feature: Two 220 fwa plowing followed by an HD-6 ag crawler with plow.
(click on the smaller image to see a larger image)
High bid on the 616 Lawn Tractor: $1000; please see the

616 silent auction 2017-2018

tab for additional details

(click on the smaller image to see a larger image)
---
Upcoming Events: Spring Membership Meeting
April 14th, 2018 at 1pm
Location: McLeod County Historical Museum
380 School Rd NW, Hutchinson,MN 55350
-3 board members are up for election (Craig Buss,Randy Larson,Terry Nowak)
-There will be two open seats on the board of Directors as Randy and Terry have decided not to run.
- Approval of bi-laws (have been rewritten)
-Lunch will be served at 12 noon before the membership meeting
-The Board of Directors meeting will be prior to the membership meeting
The Upper Midwest A-C Club is making a 1/16th scale die cast 444 Allis Chalmers square baler with thrower attachment for the 2018 show "Orange Spectacular".
Please see the 2018 Orange Spectacular show toy tab for additional details and to download this form.
Raffle Tractor for 2018 is a 1963 D15 Series II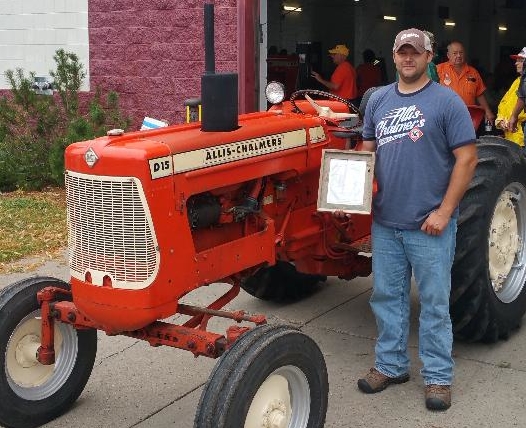 This year's show will feature original tractors
Picture is of 2018 Raffle Tractor and previous owner Andy G.
Sunday, September 24th 2017 Silent Auction of 616 Allis lawn tractor. The club decided to sell 616 through silent auction. Bidding increments of 5$ as a minimum. Contact Darrell Grams to place bids, the web site will be updated weekly. Darrell's email is dgrams@frontiernet.net or by phone at 612.280.3397, the bidding will end July 29th 2018 at 3pm, Sunday of the Orange Spectacular. Please see the 616 Silent Auction 2018 tab for further details. Thank you for your bid!
The winners of the drawings at the Orange Spectacular for 2017 were as follows:
1st prize / 1959 D-10 Tractor / Orvis Baumgardt of Hutchinson MN.
2nd prize / $1,500 Cash / Bruce Olson of Wisconsin
3rd prize / $1,000 Cash / Bernard Schroeder of Nebraska
pedal tractor / Bruce Franzen of Iowa
Thanks again to everyone who attended and participated in the Orange Spectacular sponsored by the Upper Midwest AC Club
---